Discover more from Intrepid Magazine
A weekly dose of female-powered adventure for your inbox. Where are all the women in adventure? They're here.
Over 1,000 subscribers
With a Little Dash of Crazy...
New book of the month, plus adventure bulletin.
Hi Team Intrepid,
Are you ready for a multi-day marathoning adventure? No, it's okay, you don't have to run it! Nikki Love has done it for you. So get comfortable in your favourite corner, hit download and get stuck into the story.
---
BOOK OF THE MONTH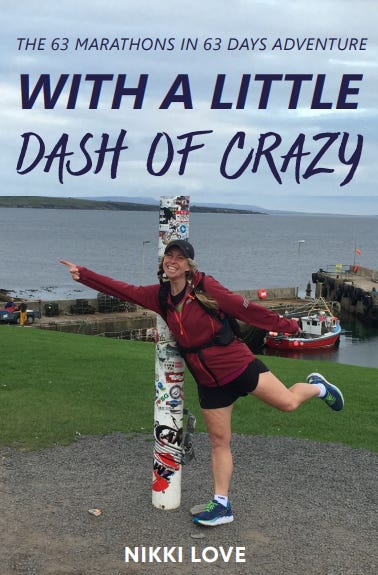 This month's book is With a Little Dash of Crazy: the 63 Marathons in 63 Days Adventure.
This is the tale of how turning 50 became the catalyst for Nikki to reunite with her ambitious, give-it-a-go self of younger years. With a plan to run 63 marathons in 63 iconic locations throughout the UK, Nikki soon learns that plans don't always go to plan… and that being adaptable, remaining committed to the big picture and relying more on dogged-determination and a 'little dash of crazy' would be key.
Nikki shares the highs, the lows, the raw emotion, the sheer hard work and commitment needed - as well as her vulnerable side - as she tells the story of the places she visits, the people she meets, the many obstacles she overcomes and the lessons she learns as she runs a marathon a day for 63 days through the scenic landscape of Scotland, England and Wales.
To start reading, download the first three chapters for free here. Or you can jump straight in and buy a copy on Amazon or at a discount from Nikki's website using the code Launch63.
---
ADVENTURE BULLETIN
---
QUOTE OF THE WEEK
"Each day I have two choices - believe that I can or believe that I can't. I choose I CAN." – Nikki Love
---
And that's all from us today. Have a lovely rest of your week… and stay intrepid!
Emily and the Editorial Team