Discover more from Intrepid Magazine
A weekly dose of female-powered adventure for your inbox. Where are all the women in adventure? They're here.
Over 1,000 subscribers
The Big 5 Challenge - Reeks District Ireland
When someone says "The Big 5", what springs to your mind? For me, it was Africa. Lions, rhinos, open savanna and hazy red sunsets. That illusion was shattered within all of 5 seconds as I read to the end of the sentence. Ireland: the land of green and blue, sea and mountains. Followed shortly by "There is no such thing as bad weather, only bad clothing".
The challenge was simple, at least on paper. Go to the Reeks District of Ireland. Complete the Big 5: five outdoor challenges featuring the biggest and best of the area. Do it in four days and be enough of a survivor to get up really early for my flight home. The challenges? Cycling mountain passes, surfing, kayaking and SUP in the dark... Bring it on.
The Big 5 Challenge
This was not just a one-off event that I was taking part in. Anyone can attempt the Big 5 Challenge and take their place on the hall of fame. But, you only reach the hall of fame if you complete all five activities in five days. You can choose to complete the Big 5 over the course of a year, but you only get a certificate if you take the five day speed challenge!
To officially sign up (and start the clock!), you need a Big 5 Passport. This little piece of folded card will be your most important possession for the next five days. You have to get it stamped to prove you've done each activity - either by a local activity provider, or after showing your komoot tracking map to prove you did it. Big 5 Passports can be picked up from the Reeks District visitor centre in Killorglin. They will stamp any self-guided activities at the end too.
1. Climb Carrauntoohil
On day one, the group set out to climb Carrauntoohil, the highest mountain in Ireland. We started from Cronin's Yard with our guide, Piaras from Kerry Climbing: an incredibly qualified outdoor leader and member of the local Mountain Rescue team. As we start the walk, Piaras tells us about the geology, the environment, the local names of the hills around us and the folklore of the area. I got a very strong impression that he belongs in these mountains.
The route took us on a gentle ascent up a river valley, which suddenly kicked up into the steep and rocky Devil's Staircase. It wasn't quite scrambling, but it reminded us that these are serious mountains we're climbing. Carrauntoohil is not a walk in the park.
At the top we were greeted with a stunning view of the surrounding mountains - and out across to the sea. The first time I'd climb Carrauntoohil was in thick fog, but it's a good job I couldn't see any of the other mountains back then. The Reeks look like a mountain playground. I could spend a very long time doing every enticing route and ridgeline.
2. Surfing on Inch Beach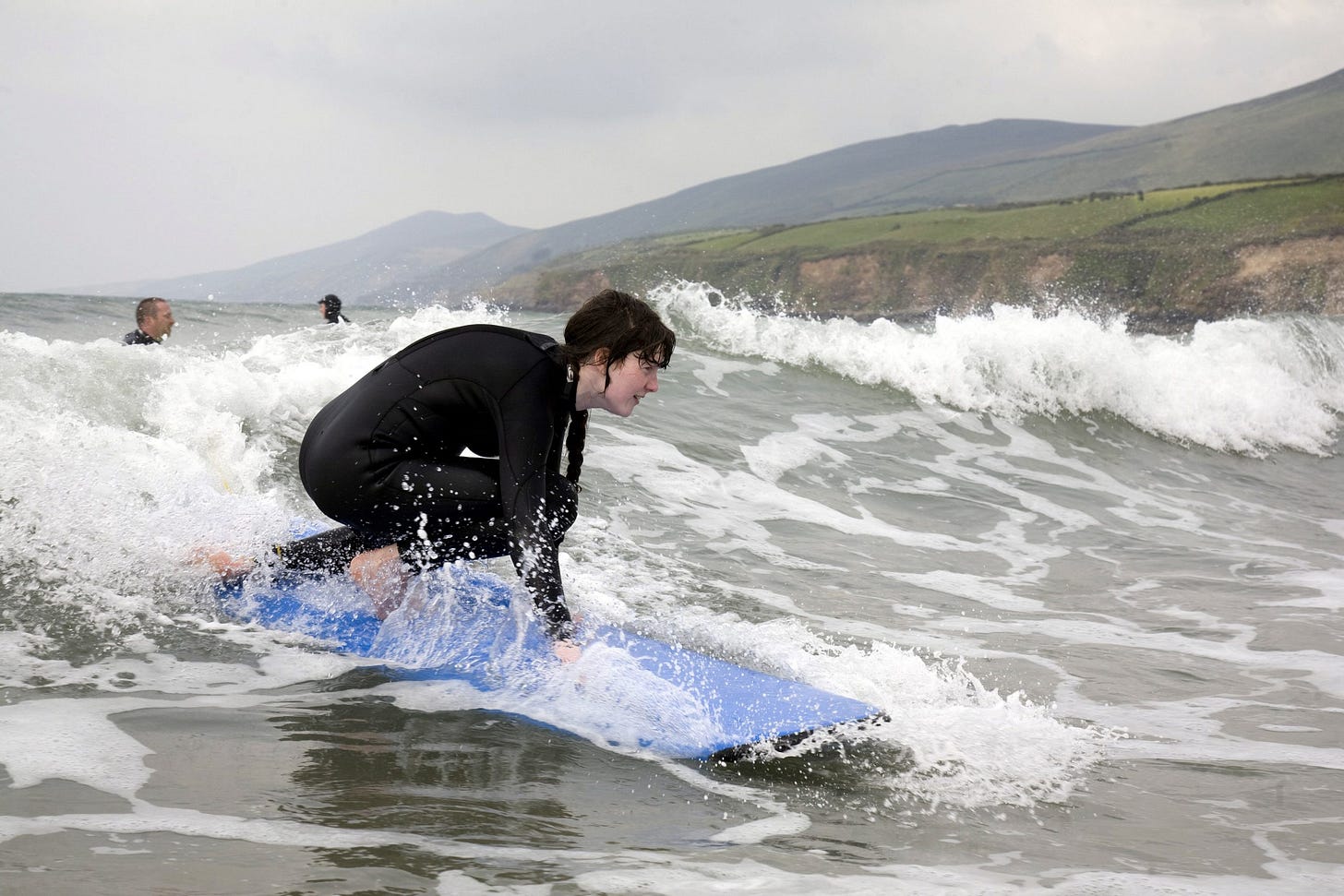 Other than having a cool name, Inch is a very unique place. It is a strip of sand reaching out into the estuary from Dingle peninsular. The long finger of land almost reaches the other side of the water, with sandy dunes facing out into the Atlantic.
My experience of surfing is very limited. I knelt on a surfboard once when I was 13 and haven't touched one since. Good job then, that we were having a lesson from Tim at Kingdom Waves Surf School.
We were taught how to carry the boards, where to position ourselves on the surfboards and how to pop up into standing position. It probably looked a lot like a strange aerobics class from the sky. Tim gave us tips on how to get the right distance from a wave to catch it. Then we hit the water.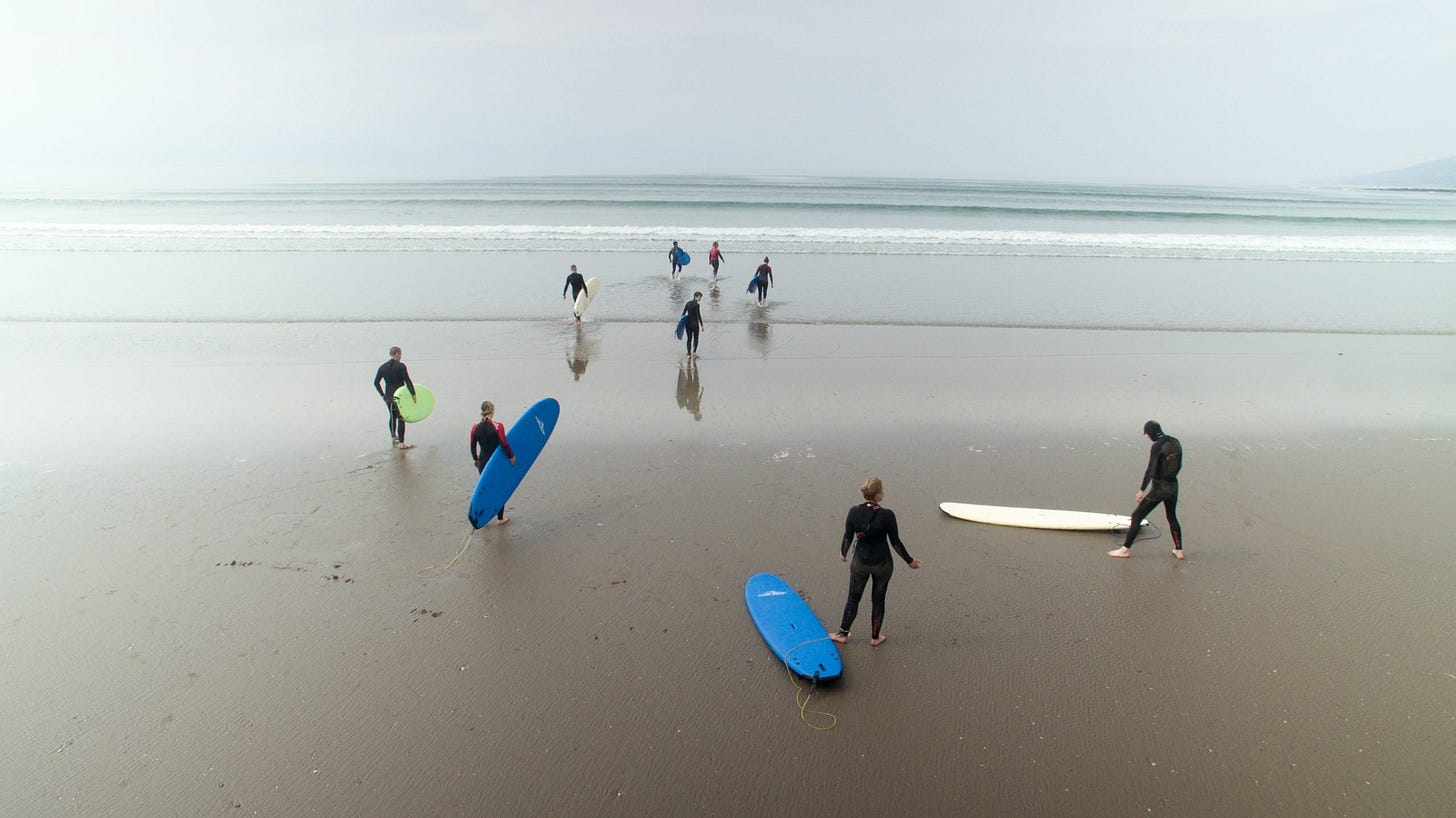 After being successively wiped out by wave after wave, I found myself bobbing in the water and taking in my surroundings. Perhaps I'm not so at home in the water, but being in the sea and yet with mountains on either side was incredible. What a backdrop for being pummelled by the Atlantic Ocean.
I would like to tell you that, inspired by this, I then hopped up on my board and caught the next wave - standing tall as I glided into the beach. This would be lying. But I did manage to stand on the board at least once before the end of our 2 hour session.
There is a subtle art to surfing - of balance and timing. I felt it, even if I couldn't master it. Now there is no excuse not to get back in the water for another try.
3. Kayak across Caragh Lake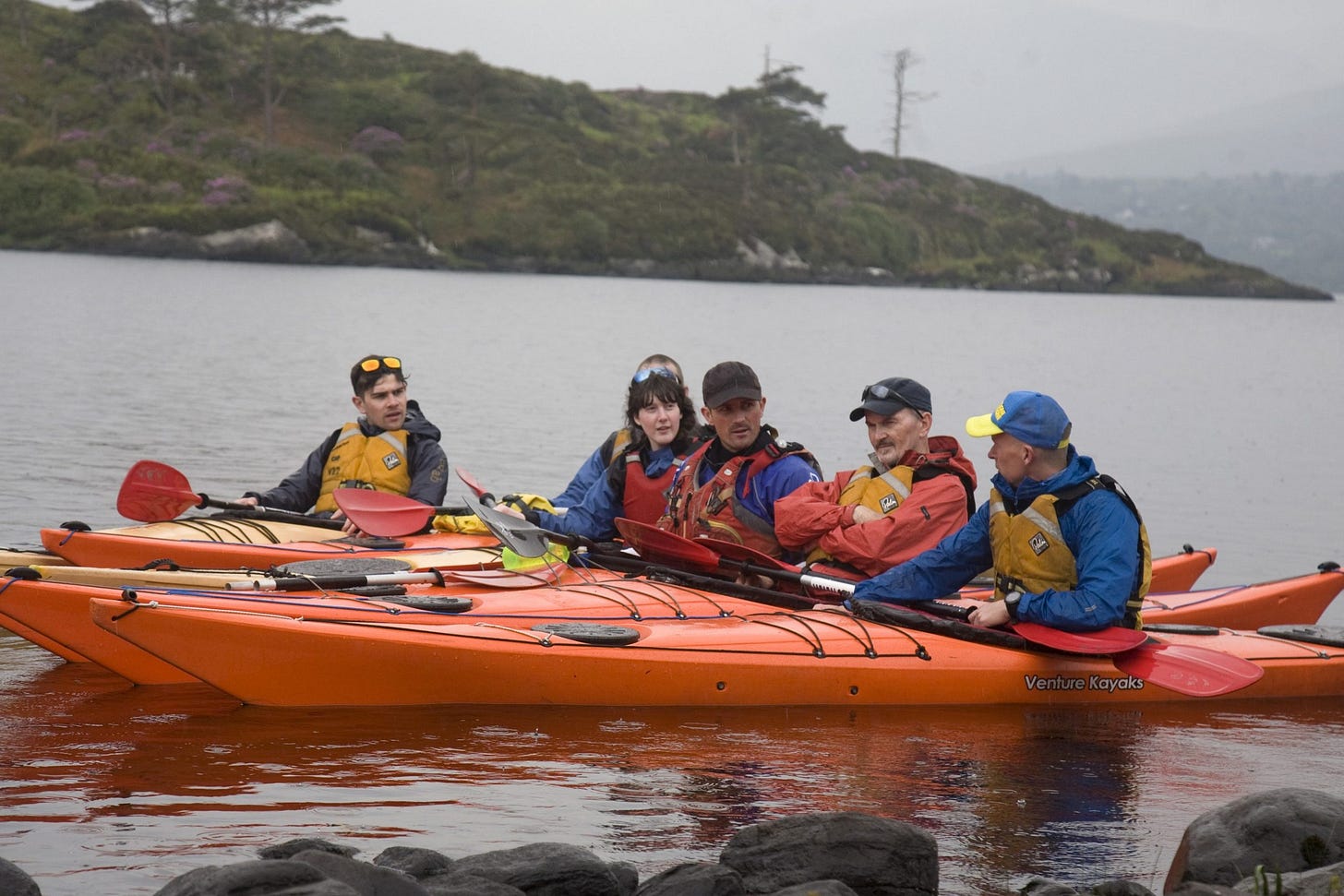 Halfway through day 2 and already exhausted from surfing, we arrived at Caragh Lake. Again, kayaking is something I've barely experienced. But Lorcan and Enda from Cappanalea Outdoor Education and Training Centre made it seem easy. We were walked though the equipment we needed (all provided) and how to put it on! Then we were shown how to adjust the kayak to fit our height, given a paddle and a push off into the lake.
There was something disconcerting about starting a 6km kayak across a lake without knowing what it feels like to kayak 6km... It's a very committing challenge. Once you're in the water, you've got to make it to the other side! Of course, we had Enda to look after us in the water, but the idea of hauling myself across a lake using just my arms seemed daunting.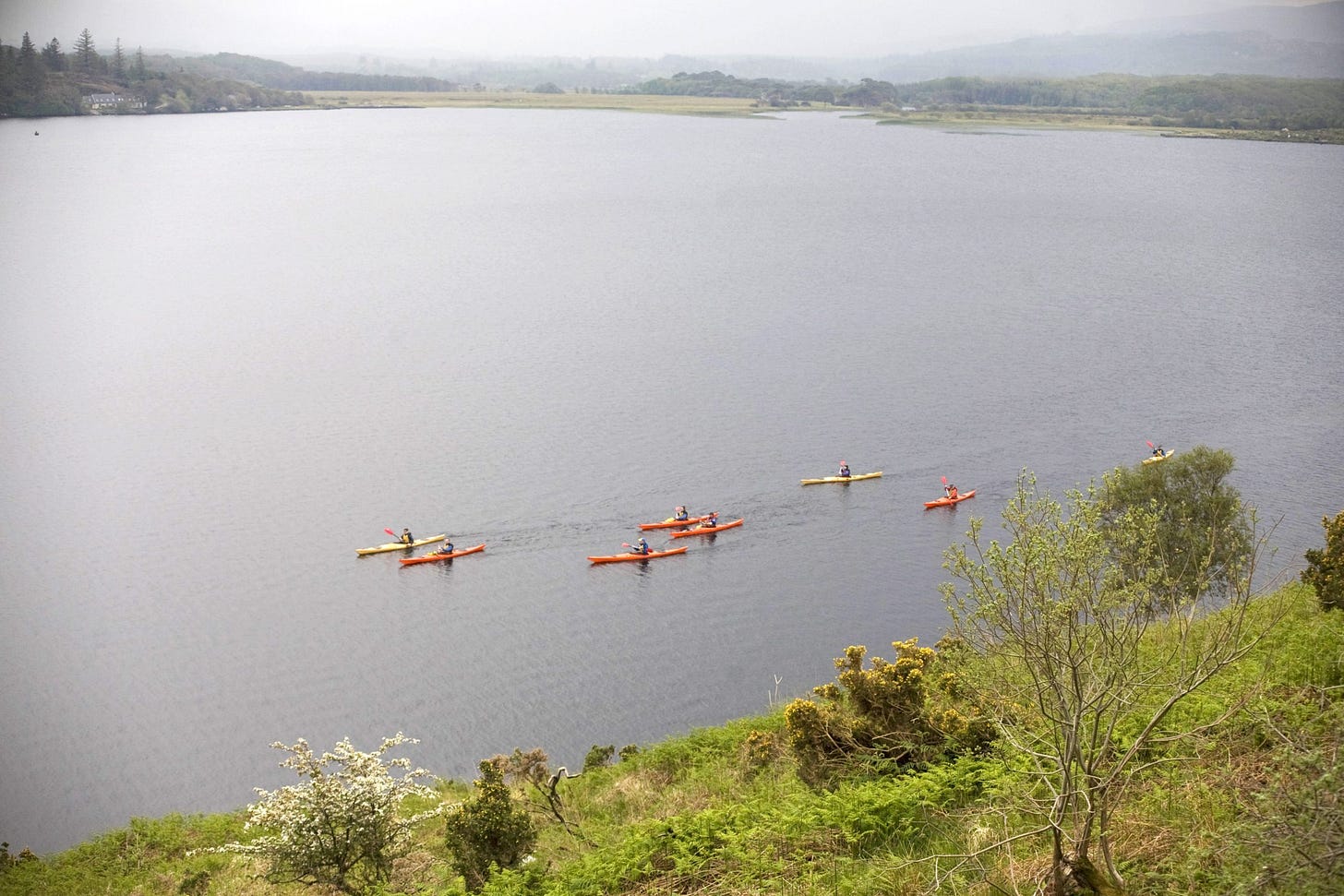 In reality, the kayak journey was peaceful compared to the roughness of surfing in the Atlantic. We glided gently across a smooth lake, with nothing but the sound of nature around us. Even if the silence is occasionally broken by a perturbed donkey!
Somewhere in the middle of the lake, it started raining. We'd deliberately put the water activities into the day with the worst weather forecast. It made a lot of sense really. If you're already wet, it doesn't really matter if it's raining or not! Honestly, there was something magical about kayaking through the rain on a quiet, grey lake.
Once the end was in sight, suddenly the competitive streak came out in everybody. There was a race to the shore and we hauled ourselves onto the muddy beach laughing.
4. SUP at Night on Lough Cloon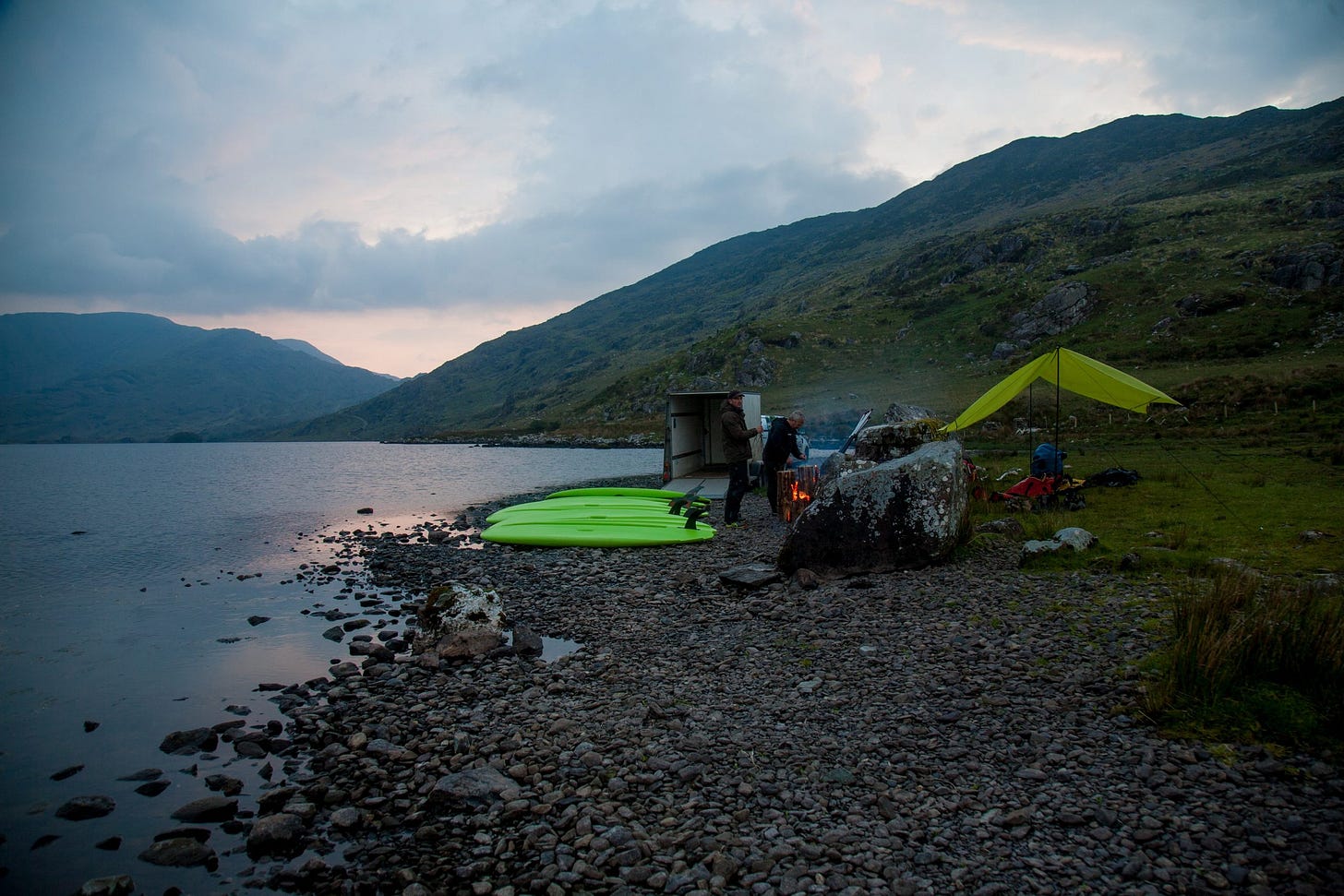 This has got to be one of the most surreal experiences of my life. To the extent that, when we all woke up the next morning, we had to check with each other that it had actually happened. The picture above was taken before we arrived at Lough Cloon. The instructors had made a lovely set up for us whilst the sun was setting. By the time we arrived, it was pitch black.
Lough Cloon is part of a Dark Sky Reserve, the first in Ireland and one of only 3 gold tier reserves on the planet. This means lots of things, but for us it meant it was dark - very dark. Had the sky been clear, we would have been treated to a glorious spread of stars overhead. Can you imagine the photographs? It was a bit cloudy for that, but the full moon peeked atmospherically in and out of view overhead.
Most of us had never touched a stand up paddleboard before. Never mind stood up on the water and, paddle in hand, serenely glided across a lough. Now, we had to do all of this, in the dark. Standing was surprisingly simple, but turning proved some challenge. Of course the instructor showed us how to turn, but it's quite hard to see in a Dark Sky reserve by the light of the moon... We shouldn't have spent so long at dinner!
After a few laps and some people in the water, we all made it back to the shore. Treated to a wood fire and a warm beverage, we'd reached the end of a long but incredible day.
5. Cycle the Ring of the Reeks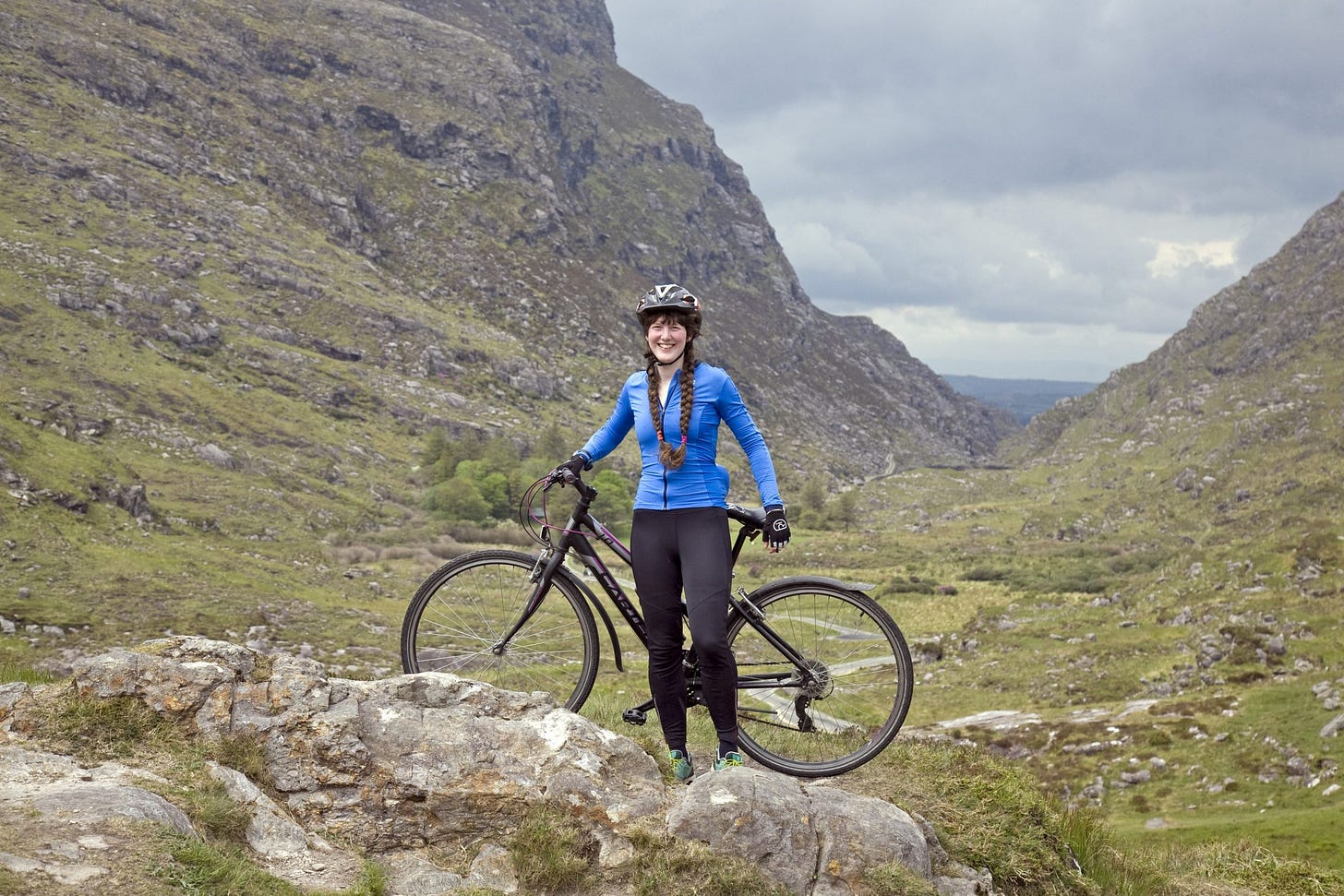 The next day feeling fully refreshed (read: exhausted) from our day's watersports, we were faced with the final challenge. Spirits were high but fairly anxious at breakfast over Irish scones and muesli.
The Ring of the Reeks cycle is 90km long, taking in the three highest mountain passes in the area. As far as we were concerned we were basically doing the Tour de France in Ireland. Luckily with fewer people watching.
I am a big fan of cycling in Ireland. About a year ago, I did 2 weeks worth of the Wild Atlantic Way on some of the most scenic roads in Ireland. The Ring of the Reeks gives the famous Ring of Kerry more than a run for its money.
We were joined by Jay from the Trailflow Biking Adventures. He provided bicycles, helmets, a support vehicle and endless Irish enthusiasm. The route was, as we expected, tough going. There are hills in Ireland - never mind the three highest mountain passes in the Reeks District. But we took it at a steady pace and had several stops along the way. The route has a good distribution of pubs and cafes.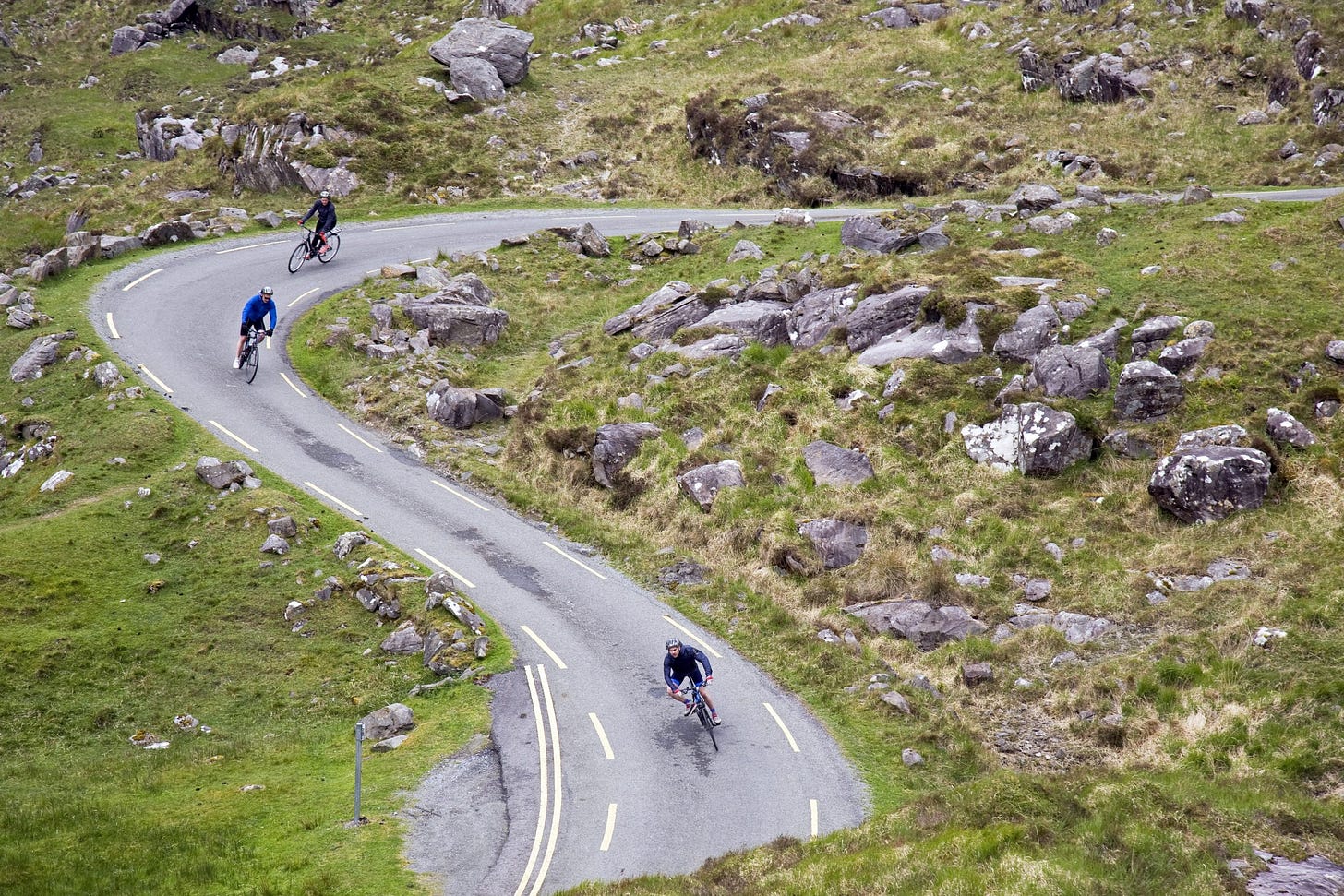 Now, as a cyclist, I loved the variety of this route. There was a bit of a warm up from Kilorglin, some challenging climbs and supreme downhills. We tackled the three passes in anti-clockwise order: Ballaghbeama Gap, Moll's Gap and the Gap of Dunloe. Each had stunning views on either side and you feel like you are cycling in the mountains, even though it is all on-road.
Before I let myself go off on one about how great the cycling was, let me instead be a bit more useful. These are serious climbs and serious descents. Make sure your brakes work and pray you don't have a head wind.
How Can I Take the Challenge?
Head to Kilorglin visitor centre or check out the Big 5 Challenge website before your stay. We were based in Kilorglin for the duration of the challenge at Kingston Town House, although there is a good variety of accommodation to suit all budgets. It is easy to reach Kerry by aeroplane from the UK.
If you like the sound of doing the Big 5 as an all-in-one adventure holiday, see reeksdistrict.com/bigfive for details of activity providers and tour operators. Packages including four nights' B&B and all five activities start from €529pp (based on four participants), not including flights.
Article written by Emily Woodhouse. Pictures by Tadhg Hayes.