Discover more from Intrepid Magazine
A weekly dose of female-powered adventure for your inbox. Where are all the women in adventure? They're here.
Over 1,000 subscribers
7 Marathons, 6 Days and a Whole Lot of Litter
If you'd suggested a 'plogging' session to me just over a year ago I would have looked at you rather suspiciously. It wasn't until I found out that it combined two of my passions of fitness and looking after the environment that I realised how perfect it was. Plogging originated in Sweden and roughly translates to picking up rubbish whilst jogging at the same time!
Myself and my good friend, Dermot, decided to run a plog in London and were blown away with not only the amount of rubbish we picked up but how much those who came along loved the concept – getting that double endorphin hit of exercise and doing something good for the planet at the same time.
Dermot and I quickly realised that this movement had legs and in our spare time started organising large scale plogs across London and beyond, becoming a community interest company called Plogolution. Our biggest was in central London in January where almost 80 people turned up to run/walk a variety of routes. We have also taken this concept into schools and now have 19 schools currently running regular plogging clubs.
Now, I like a challenge and I was wondering what we could do to raise awareness of the massive issues of plastic pollution and littering in general. I came up with the idea of plogging the entire length of the Thames from the source to the Thames Barrier. That's 184 miles… and doing it in 6 days!
None of the team who took part were ultra runners, we were a bunch of people who were passionate about the environment and raising awareness. So when we set off from the source on day 1 for a 29 mile run and rubbish pick up I don't think anyone was anticipating quite how hard, both physically and mentally, this challenge would be. We found floating islands of rubbish just 10 miles from the source in the middle of a farmer's field, ducks nesting with Haribo wrappers and swans bobbing in the water with cans alongside them. We found 627 laughing gas canisters in a small inlet leading off the Thames near the barrier and 47 discarded aerosol cans under a railway bridge next to the Thames just outside Oxford.
We picked up EVERY bottle/can/glass bottle that we could and I personally watched in awe as Dermot carried every last bit of that rubbish on his back in a massive rucksack, sometimes full up, for miles before the next drop off point. I battled with agonising blisters under toenails, which is nothing compared to the injuries suffered by the rest of the team. We all went to bed at night nursing our sores, but also elated at not only what the human body can take us through but also the team spirit that got us all to the finish line.
That camaraderie carried us all through the week; we sang, we laughed and we cried a little. We ran 7 marathons in 6 days – the longest day being 42 miles and well over 13 hours on our feet.
But as our cankles started to return to normal ankle status, it gave us the chance to reflect on the amazing job we did. We picked up 1,107 plastic bottles, 489 glass bottles, 931 cans and 44 huge bags of landfill waste.
I've promised to keep anymore of my crazy ideas to myself for the near future, but I'm open to any suggestions!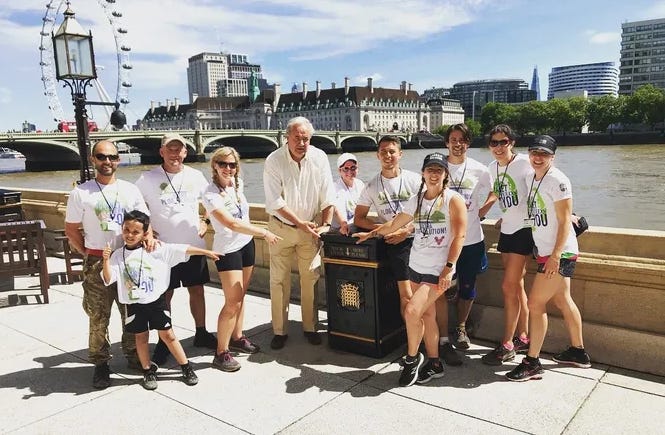 Written by Michelle Parkes: Michelle set up Plogolution with Dermot Kavanagh in 2018. Together they worked to bring large scale plogs to London and beyond and bring plogging into over 20 schools so far. Michelle's day job is a marketing consultant and in her spare time she loves hanging around upside down in handstands!